CountrySide, a master planned community, consists of 2,539 homes (1253 single family, 1168 town homes, 16 manor homes, and 102 condominium units in the Villa's). The community was completed in 1991, and the homeowners' association is known as the CountrySide Proprietary. The purpose of this site is to provide homeowners of our community with easy access to our association and information relevant to our neighborhood and community.
The Courier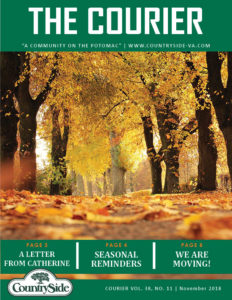 The above email was sent to all property owners the last week in October.  If you did not receive this email, we either do not have your email address on file or an incorrect email address.  Please consider providing the Proprietary with an email address by contact Loretta at lorettad.cside@pmpbiz.com .
Halloween House Decorating Contest Winners
BELMONT:

7 Awsley Court

FOXFIELD:

15 Alden Court

MORVEN SF:

16 & 14 Teasdale (Joint Effort)

MORVEN TH:

40 Aldridge Court

OAKRIDGE SF:

5 Owens Court

OAKRIDGE TH:

250 Finchingfield Court

OATLANDS:

9 Dudley Court

ROKEBY:

100 Minor Road

WELBOURNE:

5 Berkeley Court

Thank you to ALL participants!
David Barrie – Oatlands Currently I serve on several CountrySide committees and as the Oatlands representative to the Board of Directors. I would like the opportunity to continue my service
Read More »
CountrySide Proprietary  |  6 Pidgeon Hill Drive, Suite 120, Sterling, VA 20165  |  p: 703.430.0715 |  f: 703.430.8094
All rights reserved 2018 | CountrySide Proprietary